Featured Project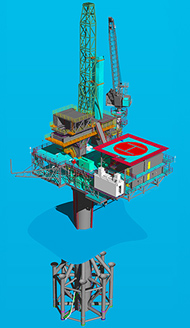 Furie - Kitchen Lights
William Jacob Management has been contracted to provide design engineering, procurement, construction support and commissioning... » Read More
Latest News
281.497.8617

Offering world-class expertise in the fields of Engineering and Project Management, Procurement, Commissioning, Construction Management, Maintenance and more.

Index > About Us > Philosophy > Vision


Vision

William Jacob Management has a vision to become the preferred provider of Design and project management services to the international oil and gas industry by safely and reliably offering world-class market driven solutions for our client's capital project requirements. We aim to achieve this goal by assembling a team of the industry's most talented design and delivery professionals with a proven track record powered by decades of experience.

Concept for Smaller, Modular Offshore Rigs Becomes a Reality

A business demand by a major international E&P company to bring down rig deployment costs and increase speed-to-production presented just the kind of challenge that William Jacob Management is known for...

Working with a major Gulf Coast rig manufacturer, our engineers developed a design strategy that distributes primary components and systems among a set of uniform modules small enough to be transported by the oil company's service fleet and lifted by platform cranes. To ensure fast, efficient startup and maximum reliability, the team put extra emphasis on the integrity and reliability of interconnect between modules.

This project is currently on a fast-track to completion and we anticipate to successfully deliver the two 3,000HP Modular Drilling Rigs to our client in 3Q 2013. » Click here to see more on this project

If they said it couldn't be done or called it the world's first, chances are we worked on it. For nearly a decade, WJM has been steadily earning a reputation for its work on the industry's most innovative projects. Ultimately, our goal is to specialize in projects that turn today's dreams into tomorrows revenue streams.