Featured Project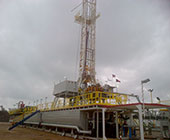 Savanna Energy - Land Rig
William Jacob Management was awarded a contract to provide project management, construction management and engineering support on the a new land rig...» Read More
Latest News
281.497.8617

Offering world-class expertise in the fields of Engineering and Project Management, Procurement, Commissioning, Construction Management, Maintenance and more.

Index > Careers > Job Openings


Available Positions

William Jacob Management does not have any openings at this time.

Please send your resume to HR@WilliamJacob.com.

William Jacob Management is proud to be an Equal Opportunity Employer. We maintain a drug-free and smoke-free workplace and perform pre-employment substance abuse testing, background and credit checks (if applicable to the position).