Featured Project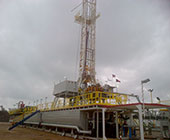 Savanna Energy - Land Rig
William Jacob Management was awarded a contract to provide project management, construction management and engineering support on the a new land rig...» Read More
Latest News
281.497.8617

Offering world-class expertise in the fields of Engineering and Project Management, Procurement, Commissioning, Construction Management, Maintenance and more.

Index > Careers


Careers

William Jacob Management has a growing multinational staff with years of experience in the oil and gas industry. Each one of the senior personnel brings over 25+ years of experience to the table with a collective total of over 375 years.

Our employees are hand picked and hired based solely on recommendation from fellow co-workers, customers and suppliers. To insure our clients needs are met, each project employee is required to have field, yard and site experience. William Jacob Management strives to invest in our employees with continued education and training programs to keep up with an ever changing industry.

Should you have an interest in working with William Jacob Management, please forward your resume to:

William Jacob Management, Inc.

16350 Park Ten Place, Suite 100

Houston, Texas 77084

or

email to: info@williamjacob.com

William Jacob Management is proud to be an Equal Opportunity Employer. We maintain a drug-free and smoke-free workplace and perform pre-employment substance abuse testing, background and credit checks (if applicable to the position).