Featured Project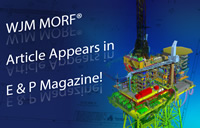 E & P Magazine publishes WJM's article on the Modular Offshore Rig Facility (MORF®). Click here to check out the article!
Latest News
281.497.8617

Offering world-class expertise in the fields of Engineering and Project Management, Procurement, Commissioning, Construction Management, Maintenance and more.

Index > Media > Press Release > 10 Year Anniversary


William Jacob Management establishes

presence in London

Houston, TX – May 12, 2015 – William Jacob Management, Inc. (WJM) is pleased to announce the hiring of Mike Emans as Vice President of Marketing (UK and Europe).  He will be located in London.  Mike brings considerable experience to WJM and his new role.  He has been a Project Manager for 30 years, responsible for bid management and Design on key drilling facility projects such as the Piper Bravo/Saltire redevelopment; Shell Brent Upgrades; BP/AIOC Chirag first western rig in Caspian Sea; Statoil's Kvitebjorn; ExxonMobil's Ringhorne in Norway; Orlan in Sakhalin; Chevron Texaco's award winning Benguela Belize Project in Angola.  More recently Mr. Emans held key positions in ExxonMobil's Hebron project in Canada and the FEED for Premier Oil's Sea Lion Falklands TLP.  Mr. Emans also has extensive experience in numerous MODU upgrades/SPS and various brownfield efforts.

"We are very pleased to have Mike Emans join WJM to lead our marketing efforts in the UK and Europe", stated WJM president and founder, Michael P. Duffy.  "Mike has had a distinguished career in the oil and gas industry to date and having him on the team will give WJM a new perspective with regard to our efforts to best serve our clients around the world."

About William Jacob Management
Headquartered in Houston, Texas, William Jacob Management, Inc. is an independently owned, Design and Project Management services firm. WJM provides full lifecycle support for the most demanding and complex capital projects in the energy industry, and is recognized for its elite-level proficiency in interfacing drilling and production facilities. With a multinational workforce and over 375 collective years of executive experience, William Jacob Management offers comprehensive capabilities and world-class expertise in:  Design, Project Management, Procurement, Construction, Commissioning / Startup, Operations, Maintenance and Regulatory Compliance.

ENSURING SUCCESS FOR HIGH-STAKES CAPITAL PROJECTS.
ONSHORE. OFFSHORE. WORLDWIDE.

For more information, visit www.williamjacob.com.
SOURCE William Jacob Management, Inc.

Contact:     Michael P. Duffy, President
Tel: 281.497.8617  |  michael.duffy@williamjacob.com

SOURCE William Jacob Management, Inc.